Germany's Fear My Thoughts have just released a fantastic album called "Hell Sweet Hell", a crashing slab of aggressive metal, threading a thin line between aggression and melody. the band's vocalist, Matt, sat down and answered some of my questions, mostly in an hilarious fashion…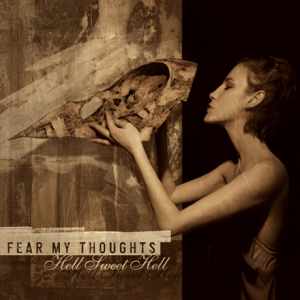 1.Hi There! Congratulations on the new album, I think its one of the
best releases this year so far, can you tell us a bit about it, and in what ways is it different then your previous album?
A: Well, thanks a lot! What can I tell you about it? Of course I reckon that it is the best effort of us so far. We tried to change all the bits that we weren't satisfied with on our last attempt and got this as a result...
We had way more time to record this time. This gave us the chance to try how various versions of our songs would sound. It was actually the first time ever that we rewrote some of our songs completely in the studio...
What else is different? The songs, the artwork and our new drummer...
2.Can you tell us a bit about the history of the band?
A: We founded the band back in 97 (as far as I remember...). we were bored as hell and thought that it would be a good thing to use our energy in writing songs instead of just hanging around...
We seemed to be quiet successful in what we were doing as many people
started liking us. So we put out our first CDs. They also were really
successful ( I know that this sounds really cheesy, but its the truth... scary, isn't it?)
Well, yeah, we played an awful lot of shows. Most of them were really cool but there were some that definitely sucked...
After some time, we got our hands on old STASI material. This again put a lot of pressure on Life-Force's label boss Stefan. Therefore it was easy for us to blackmail our way into his label and dictate the conditions...
Unfortunately we were meanwhile too successful. Because of that our drummer's wife got too jealous of all the groupies we were dealing with all the time ( I mean, it couldn't be avoided... after all we're just men...) Since she cooks very good and kept their flat clean all the time, he decided to stay with her... (Dumb ass), anyway, we were lucky to find another good guy very quickly and found out that one could have fun with him as well.
To our old drummer, Lex: he still is a very good friend of us. And as soon as his wife is on holidays, we party like we used to do it before...
3. Your music seems like a combination of some metal-core elements and a lot of melodic death metal, with some rock-like riffing thrown in, how would you describe your music, and what are your influences?
A: First of all: WE ALL HATE METALCORE!!! What we're doing is nothing else but pure Metal...
How would I describe our music? Let it put me this way: we like various styles of music. Almost everything from classical music to pop music (apart from reggae, ska, hip hop and techno...). our aim has always been to combine all this styles to something we're satisfied with. But this fact makes it quiet hard to describe our music. I think the best would be to listen to it yourself and form your own picture about it.
Our favorites are (and these are only the all time favorites as there's a constant coming and going...)
IRON MAIDEN, ISIS, NEUROSIS, BEATLES, RADIOHEAD, COLDPLAY, DUSKFALL,
ENTOMBED, EDGE OF SANITY, (old) IN FLAMES, GODSPEED YOU BLACK EMPEROR...
4. The album has an amazing sound, how did you achieve it?
A: We kidnapped the producer's child and threatened to send it to Belgium if he didn't manage to get the sound the way we imagined it...
But in fact we just had the big advantage to work with a very good producer; He knew we wanted him to go with us...
5. What's the meaning of the band's name?
A: Fear = being afraid of something, my = a personal pronoun, thoughts = ideas in ones own mind... Is the name clearer now? ( I'm just kidding...)
When we started we wanted to have a name that carried a meaning. From the beginning on we wrote lyrics that were critical. So we choose the name to have the ones to fear a change in our society...
But in the end we're Germans... Isn't this scary enough?
6. You recently did some shows with Strapping Young Lad, how was that experience?
A: Actually it was just two shows. Well it was fun to be around with such amazing musicians. But there wasn't much exchange between them and us. For them, I guess we were just an unknown support band...
It was good to reach an audience that would normally never turn up on a show of us. So in the end it was just another nice experience...
7. You did the Full Force festival, how was that, and did you do any other large scale festivals in the past?
A: I guess that this was the most amazing experience of my life. It really made me speechless when we entered the stage and stood in front of such a huge crowd... Apart from that we shared the stage with IRON MAIDEN, SLAYER, OBITUARY etc... you know, these bands had been my heroes when I started listening to metal 15 years ago. All of a sudden you play the same festival... How amazing is that? It was just great!
We were once asked to headline the OZZFEST, but unfortunately there was an important soccer match I wanted to watch at that date. So we couldn't play it. Anyway... But this makes the WFF to the biggest show we played so far...
8.You did a video for the track "Reign", how was the process of making the video for you, and are you planning another video for the new album?
A: Another of these weird experiences we all made with FMT: Although I'm a celebrated porn star over here in Germany I never shot any video with my clothes on, you know? So this was kind of strange for me ( apart from that, there weren't any girls at all...) so it was just us, the three guys who did the production and some bottles of beer and a bottle of whiskey in the room...
You can imagine that it was strange to stand in front of a camera, all alone, your sound comes from CD and your expected to pose and act like you'd perform live... It definitely was strange. But in the end the beer and the whiskey helped to give us as naturally as possible... Therefore I'd say that he product is quiet cool...
We indeed wanted to shoot another video for the new album. But since there aren't any broadcast stations that play hard music anymore, it wouldn't make much sense...
10. What are your touring plans for the near future?
A: So far there aren't any fixed plans, yet. We play a lot of weekend shows and wait for a good band that we can support. There's a little tour planned with CALIBAN, MAROON and NEARA. Unfortunately this will only be in Germany around Christmas... Well, we hope to tour as many countries of the world as we can possibly reach... Japan would be a huge dream of us...
11. That's it, thanks for taking the time answering my questions!
A: Thanks for your interest in Fear My Thoughts. Hope to see you soon on a show!
Alon Miasnikov