Abel Is Dying
Interview with: Abel Is Dying bass-player Andrea, aka Pu
2007-03-16

Abel Is Dying are a young Italian band, who is currently working on its first full-length, after releasing one promo, one MCD and touring Europe extensively; Its style can roughly be described as ranging between melodic metalcore and technical mathcore. The band's bassist Andrea, aka Pu, agreed to be the talking head out of this six-headed metal monster
Hi, how are you doing? What have you guys been up to lately?
Hi and thanks for this interview! We're all ok, just living simple daily life playing concerts and trying to make new songs every week..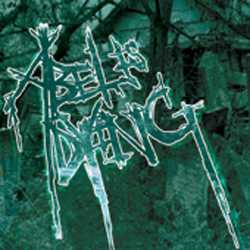 Let's start with some current events, like your latest release, the MCD titled "Gazing From The Abyss", which has been out for several months now – what feedback did you get on it so far?
Well we're having good satisfactions from our MCD, a lot of people wrote to us their appreciation so we're pretty happy and we want to still to promote "Gazing" playing in more concerts as possible!
As with any album, you've toured after releasing "Gazing From The Abyss " – how's the touring been so far? How did the crowds respond to the new material?
We've been playing the songs from the MCD before it was out, so the crowds know the songs from quite far and help us so much enjoying the show, just like we like it!
Which bands did you enjoy playing live with the most? Are there any bands you'd like to tour with in the future?
We love it more when we play with our friends but it's also so nice to play with new bands and then meet new friends! About the future we're going to play with some of our favorite bands as
Dead To Fall
and
Through The Eyes Of The Dead
in a big metal fest in England, so our dreams are going to be real soon!
Any unusual touring experiences you wanna share?
Well we can't do music for a living so for us every touring is unusual!
The band's name – Abel is Dying – is quite a unique name, how did you choose it and what does it mean?
The name of our band is referred to the biblical story of Cain and Abel (the two sons of Adam and Eve, in which Cain commits the first murder by killing his brother, after God rejects his sacrifice but accepts Abel's). We choose it because for us it is a perfect representation of the world we live in today, where humans still fight and kill themselves in the name of a god or whatever!
How did the band start? When did you know you're good enough to play outside of the rehearsal room?
The band started as many others, when some friends decided to share their passion for metal and hardcore music playing together… we didn't know that we were ready to go outside of the practice room, but we did it cause we wanted to share our love for music with everyone…now we're still playing so maybe we were good enough…
Tell us about your first live performance as a band
Well were really agitated, static on the stage and with not so many people to watch us under the stage but anyway it was an amazing night we will never forget!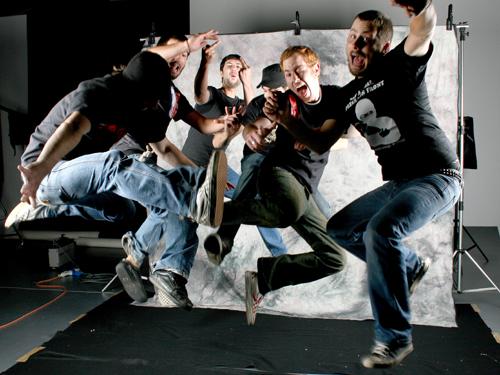 Which bands influenced your style the most?
Poison The Well
,
Reprisal
,
Darkest Hour
…and then more metal like Through the Eyes of the Dead, Dead To Fall and
The Black Dahlia Murder
.
I've read on your Myspace that a full-length is due this summer – what can you tell us about it?
We stopped to play concerts in February and March cause we started to write the new songs and we prefer to dedicate all our energy to do that…our sound is going to be more mature and crazy but without getting too far from the sound that marked "Gazing From The Abyss".

How is the music in the full-length gonna be compared to "Promo 2K5" and "Gazing From The Abyss"?
In our first promo we hadn't found "our sound", we were a little confused like every band at the beginning! We found our sound when we started to write the songs of "Gazing" …now we want to go on in the research of the "Abel…" sound, so the full length will be the next evolution of our music.
What are your lyrics about?
Everyone of us can write lyrics for our songs, and the lyrics simply speak about our emotions and fears of the daily life…
I've also noticed (on the same Myspace) you have quite basic requirements regarding booking the band for a live show, compared to bands wanting extra-soft toilet paper/ 4 gallons of freshly squeezed orange juice/ separate luxury suites for each band member, so will you be willing to play a live show here in Israel?
Maybe. It's a little complicated but maybe one day…
From what I've heard so far your music can be defined as deathcore, metalcore and mathcore – do you agree with these tags? How would you describe it?
We mix Scandinavian melodic death metal with hardcore inspirations so it's ok if you want to call our music metalcore or deathcore! But for those who love all these tags maybe we can define our music as melodic deathcore…
Abel Is Dying consists of six members, including two vocalists – how do you manage with two frontmen?
They're two crazy assholes!! And they make a mess at every concert crossing the microphone cables with guitars or crumbling against everything and everyone! And we love all this so we play better when they're the craziest!!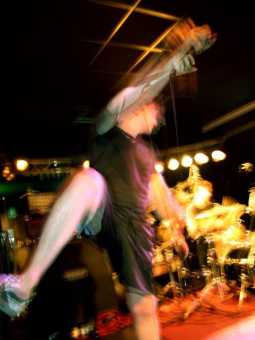 In 2006 you signed with Still Life Records – how did you manage to get signed and does it feel any different from before when you weren't signed?
Francesco of Still Life Rec. helped and supported us since our first steps in the music world so he was already a friend. When he told us that he was interested in our music we were really happy and we didn't have any doubt in accepting his offer!
It doesn't feel too much different 'cause we still to do the same things as always, trying only to do our best…obviously we feel the importance of being in a label so we try to be more serious sometime…but unfortunately we can't!! *laughs*
What is the metal scene like in your hometown of Milan, Italy?
Even if we're metal heads we follow more the Hardcore scene cause most of our friends play hardcore and not only in Milan…so we know more Hardcore bands than metal bands…
Do you consider yourselves and your music closer to Hardcore or closer to Metal?
We're just metal heads who play metal music with a hardcore attitude on the stage!
Are there bands you know from your homeland and would like to recommend?
Sure!! Our best friends and label mates
The End Of Six Thousand Years
and our friends
The Miracle
always under Still Life Records.
We highly recommend them cause they're great bands!!
In your opinion, what is the first thing a person arriving to Milan should do?
Hmm…maybe go to see the cathedral and its square…it's a nice place.
What are you currently listening to?
Pu (bass):
Black Sabbath
,
The Sword
,
His hero is gone
,
The Postal Service
Gigio (guitar):
Vile
,
Job for a cowboy
, Dead To Fall,
Necrophagist
.
Pilu (guitar):
Madonna,
DragonForce
,
Nehemiah
.
Tommy (vocals):
With Passion
,
Suicide Silence
, Johnny Cash.
Paul (vocals):
The Miracle,
Values Intact
,
Pridebowl
.
Pea (drums):
Koop
,
In the Panchine
,
Downright
.
The year 2007 is bound to be a good year for metal, with plenty of releases from all over the spectrum of heaviness (including your album), which albums are you looking forward to?
We can't wait for new Job For A Cowboy and also for waking the Cadaver full-length and also Suicide Silence new work!
So, what are your plans for after finishing this interview? And for the rest of 2007?
We're gonna play hard in our practice room to create some new shit for the next full length! In April we're going to leave for our first UK tour and in May we're going to play in a big metal fest in Hull (UK) where will play awesome bands like Dead to Fall , The Red Chord and Through the eyes of the dead! So we can't wait till that day!!!
24) Any message you'd like to send to the fans?
Make sex not war!
Thanks a million for doing the interview, squeezing it to the tight schedule of touring – I wish you all the best with the upcoming shows and can't wait for your full-length album coming this summer.
Thanks a lot for your interest in us and our music!! We hope we can write again to you and your webzine maybe after the full length…Take care dudes, bye!
Ofer Vayner