Lacuna Coil
Interview with: Andrea Ferro And Cristina Scabbia of Lacuna Coil at EuroRock 2002 festival.
2002-08-02
Alternative-Zine: What are your main musical influences?
Christina: We listen to many musical genres. The band consists of 6 members, each bringing forth his own influences. We listen to varied styles of music, from the Classical to the extreme.
Andrea: I could pinpoint numerous names. It is hard to pick just one.
Alternative-Zine: Have any Band/Artist in particular imparted you with the passion to create your own music?
Christina: You may say that at the beginning these were bands such as Paradise Lost and Type O Negative, artists of Gothic orientation. Today there is more diversity.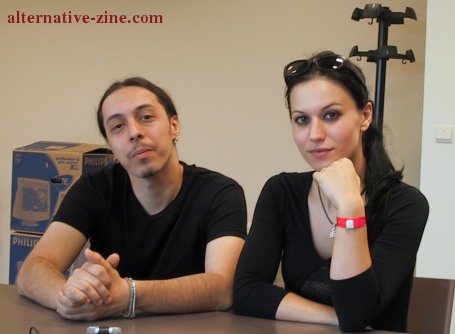 Alternative-Zine: Please relate to the stylitic changes apparent when comparing your different albums. Your debut EP featured female vocals, the previous one - Doomy growls.
Christina: We do not stick to a certain genre - we attempt to evolve - simply go along with the songwriting. We do not pre-determine a specific style for an album its recordings.
Alternative-Zine: Tell us about your latest album - Comma Lies
The album was released on September 2001. It is diverse: Heavy on one hand, yet contains some ballads as well.
This time, the recording sessions ended earlier then in the past. We finished before the due time, leaving us more time for the mixing process.
Alternative-Zine: On "Half Life" you recorded a cover version for "Stars" - Quite a surprising pick for a Metal band…
Christina: We wanted to pick a song of a different musical direction and combine it with ours, in order to reach a unique and interesting outcome - we didn't see a point in simply pickiing a Metal song in order to leave it the way it is.
Alternative-Zine: You both are responsible for singing parts in the band. Have any Singer/Performer influenced you in particular?
Christina: I used to like Madonna's act - more performance-wise then musically. I also like "Black Singing" - R&B.
Andre: I think that Mike Paton of Faith No More is an incredible performer.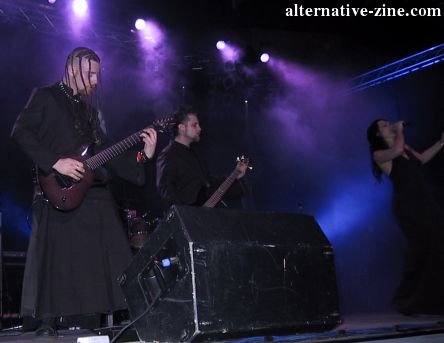 Alternative-Zine: Tell us about your tour.
Christina: We play lots of gigs - Europe, America, Italy and once again a European tour.
Andre: This is our way to promote the band; There are no video-clips of ours playing on MTV…
Alternative-Zine: Do you remember any gigs in particular?
Last year - Wacken 2001 Festival, Spain, Rock Machine, Mexico, L.A. with Moonspell - we didn't expect such a supportive crowd. We were surprised by them recognizing our songs. You may read many comments on our website: :
http://lacunacoil.it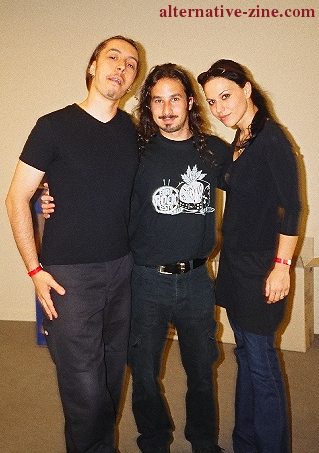 Alternative-Zine: Why do you write English lyrucs instead of ones in Italian, your mother language?
English is a universal language. It is easier to sing, and also enables us to reach a large audience. It is more musical, epecially when Rock is concerned.
Alternative-Zine: Any message for the Israeli crowd?
We hope to be able to play in your country one day. If you want to contact us, write us and we will get back to you as soon as we can.
Alternative-Zine: How do you divide the vocal parts between male and female singing?
We function as instruments, dynamically, and may switch parts every once in a while.