Graspop Metal Meeting confirms final list of bands!
2008-04-03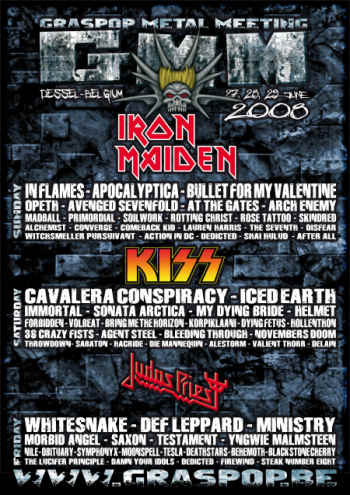 This year's GMM, one of the biggest metal festivals in Europe taking place this over June 27th-29th, has finally confirmed its full lineup of performing artists with the following statement:
"The bill for GMM2008 is complete! Last 19 bands confirmed!
'Marquees' zone: Moonspell, Disfear, Skindred
'Metal Dome' zone: Firewind, The Lucifer Principle, Damn Your Idols, Die Mannequin, Alestorm, Delain, After All, Dedicted, The Seventh, Witchsmeller Pursuivant, Shai Hulud, Action In DC, Valient Thorr, Hacride, Steak Number Eight, Black Tide
Here
you will find the preliminary schedules for the three festival days."
GMM has been taking place in the Belgium's town of Dessel since 1996 and is known worldwide as one of the top summer-metal-festivals to go to. We'll meet you there!
Related Link(s)
:
Graspop Metal Meeting 2008 official website
How to get to Grapop Metal Meeting?
Grapop Metal Meeting practical info
Wikipedia (English): Grapop Metal Meeting History and info
Wikipedia (German): Grapop Metal Meeting History and info
Wikipedia (Dutch): Grapop Metal Meeting History and info
Wikipedia (French): Grapop Metal Meeting History and info
Wikipedia (Italian): Grapop Metal Meeting History and info
blog comments powered by