Wacken Open Air 2008 - updated list of confirmed artists
2007-12-05
Wacken Open Air
will take place in Wacken, Germany from July 31 till August 2, 2008.
Wacken is a small town with 2000 souls in the middle of Schleswig Holstein.
But for three days in august it raises up to 20000.
Wacken is located 10 km north of Itzehoe and 50 km north/west of HAMBURG.
Updated artist list for Wacken Open Air 2008 (Updated for 5/12/2007) :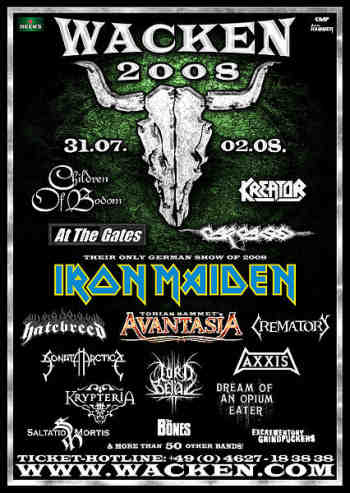 As I Lay Dying
At the Gates
Autumn
Avantasia
Axxis
Carcass
Children Of Bodom
Crematory
Dream of an Opium Eater
Excrementory Grindfuckers
Gorerotted
Hatebreed
Iron Maiden
Killswitch Engage
Kreator
Krypteria
Lord Belial
Obituary
Powerwolf
Primordial
Sabaton
Saltatio Mortis
Sonata Arctica
The Bones
Related Link(s)
:
Wacken Open Air
blog comments powered by