Staind Release "The Singles 1996-2006" CD + DVD
2006-11-11
Staind gives fans never before released live tracks and covers on the upcoming 'The Singles 1996 - 2006' album, in stores everywhere November 14
th
. The 16-track album will feature such #1 rock radio smashes as "It's Been Awhile", "For You", "So Far Away" and "Right Here".
In addition, it will include never-before released live acoustic cover versions of Pink Floyd's "Comfortably Numb", Alice in Chains' "Nutshell", and Tool's "Sober", plus a live acoustic version of "Everything Changes".
The version of "Outside" appearing on the album will be the version that originally appeared on the "FAMILY VALUES TOUR 1999" album with Fred Durst. Also hitting retail shelves on November 14
th
is the corresponding DVD "The Videos" which will include a complete collection of the band's music videos plus two bonus videos recorded live.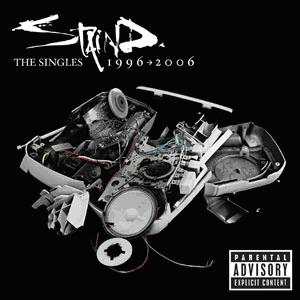 Staind: The Singels: 1996-2006 (CD) – Tracklist:
In Stores November 14th
1. Come Again (Remix)
2. Mudshovel
3. Home
4. Outside (Family Values Live Version)
5. It's Been Awhile
6. For You
7. Epiphany
8. So Far Away
9. Price to Play
10. Zoe Jane
11. Right Here
12. Falling
13. Everything Changes (Live Acoustic)
14. Nutshell (Alice In Chains Cover - Live Acoustic)
15. Sober (Tool Cover - Live Acoustic)
16. Comfortably Numb (Pink Floyd Cover - Live Acoustic)
Staind: The Videos (DVD) – Tracklist:
In Stores November 14th
1. Just Go
2. Mudshovel
3. Home
4. Outside (Family Values Live Version)
5. It's Been Awhile
6. Fade
7. For You
8. Epiphany
9. Price To Play
10. How About You
11. So Far Away
12. Right Here
13. Falling
14. Everything Changes
15. Sober (Tool Cover - Live Acoustic)
16. Everything Changes (Live Acoustic)
Related Link(s)
:
Staind Official Site
blog comments powered by