System Of A Down to feature in documentary
2006-11-11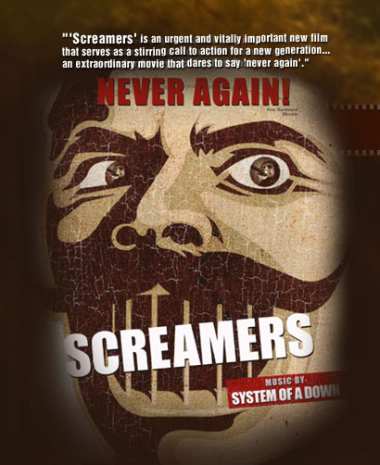 System Of A Down have done the music for a new documentary film titled "Screamers".
S.O.A.D are known for their political opinions and activist approach, references about genocide have been made in their songs but this description really cuts the cake: (taken from the official "Screamers" website):
"Documentary feature examining why genocides keep occurring -- from the Armenian genocide in 1915, to the Holocaust, Bosnia, Rwanda and now Darfur – through the eyes and music of the Grammy award-winning rock band System of a Down, based in Los Angeles, whose members are all grandchildren of genocide survivors.
As the band tours the world and touches on the locations and stories of genocide in the last century, the film follows the personal story of the lead singer's grandfather, a 96-year old survivor of the Armenian genocide, one of the few remaining survivors from his village in Turkey.
With the arguments of Harvard Professor Samantha Power, the personal stories of survivors from Armenia, Rwanda and Darfur, policy critics and whistleblowers the film targets the problem of genocide denial, with specific reference to the Turkish government's current campaign to stop its citizens from discussing the genocide.
When the band arrives back in the United States, they confront the hypocrisy of U.S. foreign policy in the debate on genocide recognition, with Speaker of the House, Dennis Hastert, actively blocking a vote in Congress. Through the band's efforts to get Dennis to "Do the Right Thing" and Power's thesis that America's interest has always been to stay neutral, no matter how wide-scale the carnage, the film shows how successive Presidents and corporate interests have conspired to turn a blind eye to genocides as they are happening; whether it be Iraqi Kurds in the 80s, Rwanda in the 90s or Darfur today. After the Holocaust, we may say "never again" – but we don't mean it."
Related Link(s)
:
Official System Of A Down website
Official "Screamers" website
blog comments powered by