Grave - new albums details
2006-05-17
A new album by Sweden's death metal cult-act Grave, entitled "As Rapture Comes", will hit the stores July 24th 2006 in the US. The new recording shall enrapture anyone who digs uncompromisingly extreme, heavy, groovy and gloomy death metal.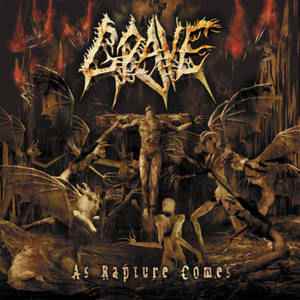 "As Rapture Comes" – Tracklist
:
1. Intro - Day Of Reckoning (0:49)
2. Burn (6:24)
3. Through Eternity (3:45)
4. By Demons Bred (4:16)
5. Living The Dead Behind (6:26)
6. Unholy Terror (3:44)
7. Battle Of Eden (3:38)
8. Epic Obliteration (4:02)
9. Them Bones (Alice In Chains cover) (2:32)
10. As Rapture Comes (5:34)
The displayed cover artwork for "As Rapture Comes" was designed by the Polish artist Jacek Wisnieswki, who hasn't only worked with Grave on the previous "Back From The Grave" and "Fiendish Regression" albums, but who also created great images for releases by bands such as Krisiun, Vader, Decapitated and many more.
Vocalist/guitarist Ola Lindgren comments the completion of the recording as follows:
"The new album is finally completed. 9 tracks which can only be described as the most aggressive, evil and brutal stuff we have ever created both sound and song-wise. The album was recorded by ourselves at Studio Soulless and the final mix was made in the Abyss Studio with Peter Tägtgren. This one takes Grave into a new dimension while still staying true to our legacy of brutal, heavy death metal."
The group has also confirmed a string of shows with Entombed in Scandinavia for June, as well as a North American tour with Dismember and Vital Remains for Autumn.
Related Link(s)
:
Grave
Century Media Records
blog comments powered by