Firewind - new album details
2006-05-11
After the release of their Century Media debut album and third album all-together, "Forged By Fire", it's now time for
Firewind
to take the next step forward with the new vocalist Apollo Papathanasio (ex-Majestic, Time Requiem) and drummer Mark Cross (ex-Helloween, ex-Metalium); The new album entitled "Allegiance" is done and ready to be released in the Europe on July 24
th
, 2006.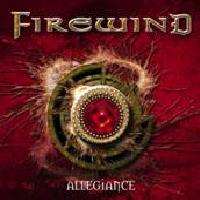 Tracklist- "Allegiance":
1. Allegiance (4:41)
2. Insanity (4:29)
3. Falling To Pieces (4:03)
4. Ready To Strike (4:35)
5. Breaking The Silence [Feat. Tara] (4:03)
6. Deliverance (6:07)
7. Till The End of Time (4:36)
8. Dreamchaser (4:07)
9. Before The Storm (3:42)
10. The Essence (4:19)
11. Where Do We Go From Here? (3:57)
Guitar wizard and band leader Gus G., who had earlier quit working with his other bands
Dream Evil
, Mystic Prophecy and Nightrage to fully concentrate on Firewind, is apparently more than just excited about this new album:
"Excited? Hell yeah!! I can't wait until people get to hear our new album, we put so much work into it and I think it paid off in the end. It's easily the best Firewind album so far and the most complete effort in my career. Also, we're looking forward to going out and playing the summer festivals. We're eager to present you some of our new stuff and see the reaction!"
The album's first single "Falling To Pieces" will be released June 19
th
, 2006 in Greece. It will include an edit version of the title track, the non-album tracks "Demon Nights" and the Blackfoot cover "Teenage Idol".
The band also just finished shooting a video clip for "Falling To Pieces" with Swedish producer Patric Ullaeus (who worked with
In Flames
,
Dimmu Borgir
,
Lacuna Coil
,
Within Temptation
and others).
Related Link(s)
:
Firewind - Official site
Century Media Records
blog comments powered by