Shadows Fall - New album details
2006-03-19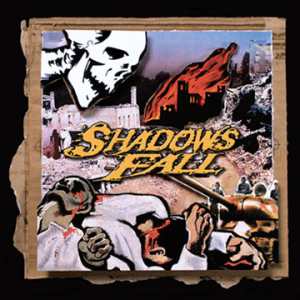 On June 12
th
2006, metal titans SHADOWS FALL return with their much-anticipated new release, "Fallout From The War". The record's sessions were again produced and mixed by long-time friend, Zeuss (Hatebreed, God Forbid), at Planet Z Studios in the band's home state of Massachusetts.
"Fallout From The War" Tracklist:
01. In Effigy
02. Will To Rebuild
03. Haunting Me Endlessly
04. Seize The Calm
05. Carpal Tunnel
06. Going, Going, Gone.
07. Deadworld
08. This Is My Own
09. December (Only Living Witness)
10. Mark Of The Squealer (Leeway)
11. Teasn', Pleasn' (Dangerous Toys)
Brian Fair (vocals) spells out the details on the tracks from the new album:
"Hello everyone! All of us in SHADOWS FALL are very excited to announce the release of "Fallout From The War" on Century Media.
This album is meant to be a companion piece to our last full-length, "The War Within", and it contains six originals songs written during the sessions for that very album.
We returned home from an amazing summer on Ozzfest 2005 and decided to get together to record these songs as a perfect way to close out "The War Within" album cycle and give our fans a chance to hear some killer new material. The recording sessions themselves went incredibly well. We were able to realize the full potential of these songs and with the Zeuss' help we were able craft an amazing disc with a wide variety of styles and emotions.
These songs cover everything you have come to expect from us and it was also a chance to re-record a few tracks that had previously only been available as bonus tracks in Japan and Europe, including a new version of 'Deadworld' – a song that's one of the first-ever Shad tunes (dating back almost 10 years!). This version is also the first one featuring Jason on drums allowing him to add his signature sound to the track. We also re-worked 'This Is My Own,' a track from The Art Of Balance sessions, with some new vocal harmonies and a few twists and turns.
For the cover songs, we decided to dip back into our own history to shine some light on bands that were huge influences on us but never seemed to get the attention they deserved. For one, Only Living Witness was an amazing and highly underrated rock band from the Boston area and we covered their tune 'December' – and had a blast doing it! Next, we banged out a version of 'Mark Of The Squealer' by NYHC legends, Leeway. To me, Leeway was the ultimate metal/hardcore crossover band with sick thrash riffs and hard-as-nails lyrics. And finally, we recorded an updated version of Dangerous Toy's party anthem 'Teasn', Pleasn'' that features original D. Toys' vocalist Jason McMaster singing along with myself. We went through a few thirty packs to make sure we got this one right! Good times indeed.
This will be our last release for Century Media, who as a label have helped us to grow into the band we are and allowed us to achieve things we never thought possible. We see this as the perfect finale to our Century Media legacy and we hope you enjoy it."
"Fallout From The War" follows the group's most acclaimed disc to date, "The War Within", which originally debut at #20 on the Billboard Top 200 chart, has gone on to sell over 250,000 units in the U.S. alone, and features the Active Rock hit and Grammy-nominated track, "What Drives The Weak".
Related Link(s)
:
Shadows Fall
Century Media
blog comments powered by