Wacken Open Air 2006 - updated list of confirmed artists
2006-01-16
Wacken Open Air will take place in Wacken, Germany from August 3 till August 5, 2006.
Wacken is a small town with 2000 souls in the middle of Schleswig Holstein.
But for three days in august it raises up to 20000.
Wacken is located 10 km north of Itzehoe and 50 km north/west of HAMBURG.
Updated artist list for Wacken Open Air 2006 (14/1/2006):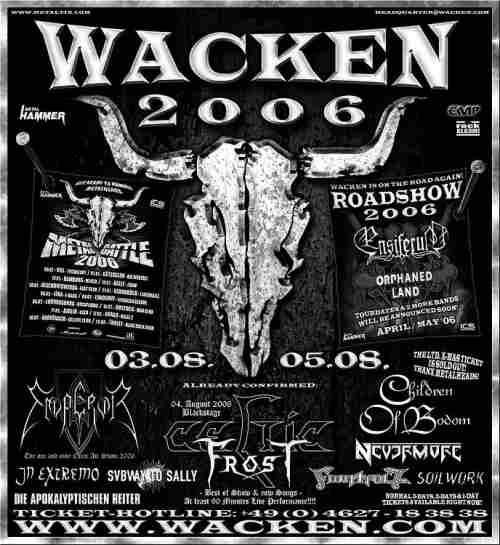 Aborted
Atheist
Bloodthorn
Born From Pain
Cannibal Corpse
Celtic Frost
Children Of Bodom
Die Apokalyptischen Reiter
Ektomorf
Emperor
End Of Green
Finntroll
Gamma Ray
In Extremo
Korpiklaani
Nevermore
Orphaned Land
Primal Fear
Soilwork
Subway To Sally
Wintersun
Related Link(s)
:
Wacken Open Air
blog comments powered by