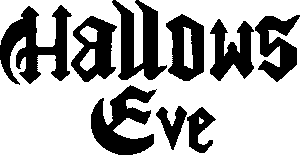 Hi Tommy! I understand the band has new material written down, when is a new album to be released?
We took a little break from each other at the end of the year and one reason is to write before we begin rehearsing again at the beginning of the year. I'm afraid it will be late in 2006 before releasing anything. Perhaps 2007. We really want to take some time with it and make sure everything is right, every nuance, the recording situation, everything. Any progress will be mentioned at hallowseve.org.
How does the new material sound like
I think it will be a return to basics! We really went crazy on Evil Never Dies.
We were experimenting. I think the time is right to get back to straight up, nothing fancy, simple metal. I'm quite excited about it! I know for a fact we are fooling around with some different time signatures is the only thing strange about the new
songs. That's something we never did before. We changed tempos in mid song often such as D.I.E. and Plunging to Megadeath and we changed keys, but now I want to mess with time. On second thought, we don't really know where this next CD will take us do we now!
I understand that Dane Jensen is back as the drummer, why was he absent?
Just some personal adventure. He only missed about eight shows which were filled in by Mike Anderson who played in Hallows Eve in the nineties.
Mike was excellent and I enjoyed playing with him again, but it was a fill in gig and Dane is back.
Let's talk about your latest release, Evil Never Dies, how would you describe it?
Our albums all had a different theme such as Death and Insanity being about different aspects of death and Tales of Terror being little snapshots or stories of horror, mostly based on our experiences. Well, Evil Never Dies was sort of thematic about the subject of evil and it's different aspects. Thus we had some death vocals and let some death influence into the band for this album. Our next album will be different and feature other influences probably.
Also notable about Evil never Dies is that some of the songs were the songs that would have came out a long time ago. Technicolor Roadkill was actually recorded for Death and Insanity under another name and then dropped from the album, but with some idea adjustments to fit the theme it is now out. Also, Vampires Drink Deep is a very old song by Skullator that is only seeing the light of day now but it
is perfect for this album and none other, thus it lives.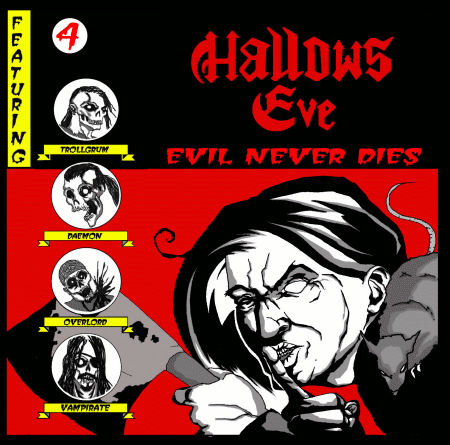 Now, some history, how did the band start out back in the 80's?
Stacy and I were in a band called Warrior prior to Hallows Eve. I got him to replace me as lead singer in Warrior. I was going to start a different band and Stacy was so talented I was desperate to get him to sing. Otherwise you would have had me singing and lost a lot of great songs such as Lethal Tendencies. Well, Skully was making fun of Warrior at a gig in summer of '83 and that's how we met him. When me and Stacy stood outside one night on Warrior's guitarist's driveway we immediately wanted to get Skully because his attitude was just so "fuck you"!
How did you get your track on the Metal Massacre IV album?
We were becoming popular through underground tape trading and Brain Slagel of Metal Blade got wind of us and called on the phone. We had a well known demo through constant self promotion which was the way
in the dim and distant past to get known. Metal wasn't popular with any mass part of music distribution back then. It was all do it yourself.
How did you get the contract with Roadrunner Records?
7. Brian Slagel, the president of Metal Blade, must have made a deal.
We didn't know what all we had going on sometimes! We were too busy
living the metal lifestyle! Maniacs and vagabonds! Roadrunner was only for Europe, I believe, we were on MBR for the U.S. and Bonzia for Canada. Later we dealt with Important, Enigma, Restless, Capital,
and a parade of various distributors.
Your music was much heavier than most thrash bands of the time, what were your influences and ideas when writing it?
Me and Stacy were just talking about this! Yes, we speak. We really didn't have any thrash influences, except for Slayer and Exciter.We mostly listened to Judas Priest, Iron Maiden, Alice Cooper, Motorhead and Black Sabbath. I listened to Dead Kennedy's, The Ramones, Sex Pistols, and The Exploited sometimes. But even the term "thrash" was something we hadn't heard yet.
The band has been through a lot of line-up changes, what happened to Stacy Anderson and David Stuart?
Ah, my favorite subject. Man, without talking about it all day I will try to this in a nice but realistic way. First, this band has had nineteen very talented people play in it for two decades, especially David Stuart and Stacy Anderson. Some members were not of the same work ethic as me. Some just had other things to do. Two of them died. David and Stacy both went on to great happiness and I speak with them on occasion. But they are not going to be rejoining the group and Hallows Eve has played many more shows without them than with them. We all moved on! Hallows Eve still goes on with the finest that I can get to play with me.
How did Skellator, your original guitarist, become the band's vocalist?
He sings lead on two songs for the new album, I am the band's lead singer.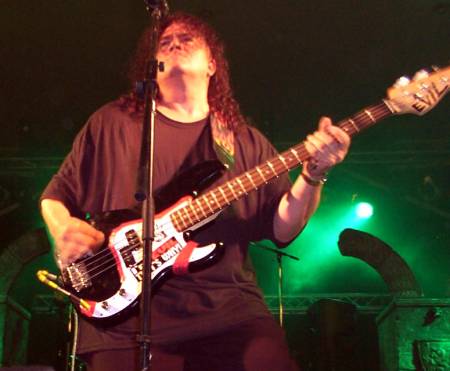 You spent some time as a member of Fragile X, what kind of music did you make there, and what happened to the band?
That was a straight up blues based hard rock band. I was still seeking a new Hallows Eve and this seemed fun to do for a while. It's significant that I started recording with producer Chris Gailfoil who was the drummer of Fragile X and co-produced Evil Never Dies. I hope he will work on the next Hallows Eve album also. The Fragile X album, called Plan B, has a version of Sweetest Tongue, Sharpest Tooth from E.N.D. That's my song about the folk tale of red riding hood.
I know you've worked with James Murphy for a while, how did that happen, and why didn't it last?
He only ended up practicing with us for six months. He came in right after we lost Stacy and the call from Chuck Schuldiner to come play in Death was a pretty solid offer so off he went to Tampa.
You did shows in the legendary CBGB club, did you work with Prong's Tommy Victor who was a soundman there at that time?
I guess so! It's a funny thing all the people you tour with and meet that later become something of merit. Primus opened for us for two months at the end of the Monument tour. But then it was Blind Illusion. I didn't know who I was paying did I! Faith No More opened for us once and there's all kind of weird stories like that. At that CBGB show there was a tall guy named Pete in the audience from a band called Carnivore. Type O Negative, if you don't know. And by the way, I am searching for a copy of that show. If anyone has any shows from '85 or '86 please contact us at the web site.
www.hallowseve.org
- The CBGB show especially.
Why is the 11.27.85 of special interest to you?
I want to release it as part of a box set Metal Blade Europe is working on.
The band is considered one of the main influences on death and black metal, what is there in your music, do you think, that makes so lasting?
I don't know, but that is always very humbling to hear remarks such as that so thank you very much. I'm glad so many people found something to identify with in our words and music. I wrote something about myself and somebody thousands of miles away said I feel like that too. That we influenced other musicians is remarkable to me. I've had guys in bands bigger than us tell me we influenced them and I'm like, whoa. I like the cover that Behemoth did of Lethal Tendencies and Powergod does Metal Merchants better than us! It's all very nice and humbling.
What made you reunite the band?
I see it as a continuation of a lifelong story as we really didn't reunite anyone. Skullator is back from the first album and the next one will have Dane and Brandon from Evil Never Dies. Stacy may do some appearances with us in Atlanta this year. It's a continuation.
What kind of live shows did you do since your reformation?
About 40 shows, mostly in the southeastern U.S. We did some Midwest shows and went to Europe. Played to 2000 there at KIT! But my favorite shows are our normal ones at clubs where we draw 100 to 300 fans who know every word and we can meet everybody and hang out. It's great to hear 300 people sing every word of Lethal to the point where we don't even sing it or when they scream Speedfreak with me. I just hand the mike out to someone in the audience occasionally if they seem like they know a verse. Who cares? I came to play some metal with you guys, you're all invited to my party! Come on up!
Any last words to the fans out there?
Thanks for the interview, making your own biscuits is the best, a bag of potatoes is cheap, thank your dominatrix, Busch is the poor man's Budweiser but I like Samuel Adams, I'll get another album for you soon, and don't forget to come to the web site and drop me a message. I'm always glad to hear from the mad fools who want to talk metal stuff and don't follow rules!
Thanks for doing the interview!
Alon Miasnikov